Residential Garage Selection


When it comes to choosing a garage door for your home, one might think that it can be as simple as 1, 2, 3, but that is not always the case. At Overhead Door, we want to make choosing your residential garage door selection as easy as possible. Here are some pointers for a better understanding of what selections you have (pricing, basic material, and styles).

Stock Doors

Stock doors are some of your basic doors. No matter the material you choose, a basic garage door comes without significant panel design and without glass. If you choose to make upgrades, your cost, of course, will go up from there. Stock doors generally cost around $575, without installation fees and are very common in residential garage selections, but everyone wants to have their own little "touch" on their home. If you are one of those, then semi-custom doors or custom doors are for you.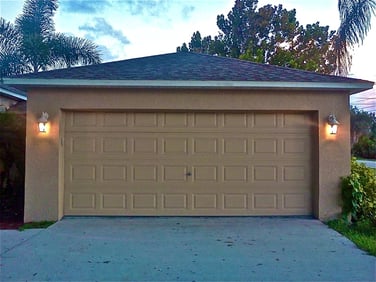 Semi-Custom Doors
Semi-custom doors are one step up from your stock doors, but instead of having your basic door you can have panel styles, glass inserts, and designs of your own. Homeowners select from a kit of styles to create the door that best suits their home. These types of doors offer more options such as more wood selections, panel designs, and different glass inserts or designer-look glass options. Semi-custom wood doors usually range from $1,500 to $3,000, not including installation or primer. Steel doors always come primed and with a baked-on finish suitable for painting. Prices for mid-range steel doors run from around $400 to $1,200 not including installation. If you still want more, then your next step would be to look into custom doors.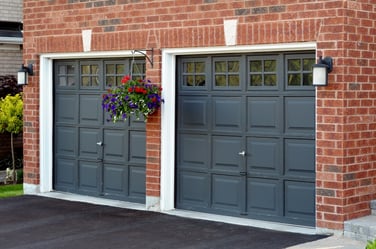 Custom Doors
Custom doors come with custom colors, finishes, panel designs, grooved panel faces, insulation, and top-quality materials, up to architectural design. We like to refer to this level of wood as the, "carriage house selection," because it is such a high quality of wood. It holds up longer (some up to five years) and is intended to enhance the design quality of the home. If you are one that knows exactly what you would like for your garage door design, then it can be drawn architecturally and submitted to the company. Two-car garage steel doors in this range typically cost anywhere from $595 to $1,500, not including installation. If you are looking for the more customized door, then you are looking at $3000 apiece.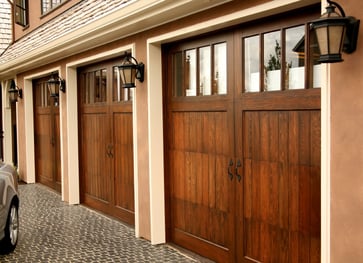 Whatever your residential garage door needs, Overhead Door can help! Browse our selection of residential doors and request a FREE design consultation to find out what door is best for your