If you want to do more than just park your vehicle or store junk in your garage, then we have the solution for you! With Father's Day just around the corner, moms and kids are thinking about what to get that special man in their lives. What better gift than a MAN CAVE? So many men out there dream about their man cave and having "the boys" over for some football parties, or even just to hang out and have a few drinks to relax from a long hard week. Some of you may have already started the process, but got stuck on a thing called "life" and just haven't got around to finishing the man cave. Some haven't even started at all, but have every vision in their head of what they want the man cave to look like. Well, we are here to help you and want that invitation to that awesome football party this season!
Cleaning
First off, you will need to get the entire garage organized and cleaned out. Maybe this is the perfect time for that spring cleaning you were supposed to do a few weeks ago, or even that garage sale that you've been talking about for a year now. Whatever it may be, you need to be able use as much garage space as you can. Turning your garage into a man cave will keep mom happy along the way with a clean garage. So, put those bikes on a hook, those tools in the toolbox, and those boxes to the garage sale pile and get that garage cleaned.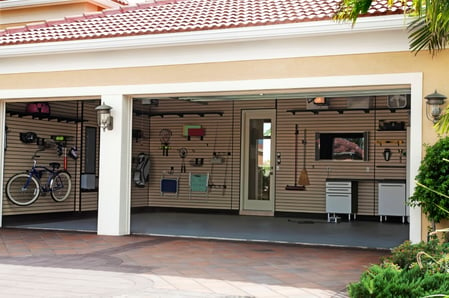 Insulation
Next would be insulation. Now, you want the man cave to be a place where you can enjoy sports all year around, right? Having insulation helps keep you warm in the winter and cooler in the summer! One way to save money is by installing the garage door insulation yourself. You will need the walls, floors, ceilings, and garage door insulated. Garage insulation is expected to be on the lighter side of things, which is great! So, don't worry about all your money going to that.
Lighting
The next helpful tip to turn your garage into a man cave would have to be the lights. You wouldn't want to spend all this time and money on your man cave and not be able to show ALL of it off. You want to make sure your lights go with your style. Another little tip: If you have an attached garage it might be a bit easier to install your lights yourself. If you have a detached garage, it might get a little bit tricky, and calling the electrician might be the best choice.
Flooring
Let's face it, garage floors were not meant to be comfortable. In fact, they are very cold/hot at times. Adding wood floors to your garage could give you "that look" that your man cave is missing. Plus, it gives off a more welcoming vibe, which will make your guests want to return and you holding the title for best man cave on the block!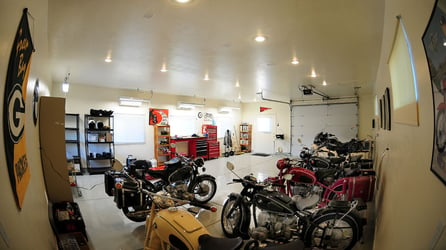 We have just touched base on the fundamentals of turning your garage into a man cave, so subscribe to our blog and stay tuned next week when we put the icing on the cake with painting and decorating. You are on your way to having your dream man cave!