So, last week we talked about the basics to turn your garage into a man cave. Now, let's talk about the finishing touches to make your man cave the best one on the block!
Protection
Now that you have your insulation, floors, and lighting done, next you will need to think about your protection. Most man caves have the big TV's, valuable memorabilia, and many other "manly" things that you want protected. A good security system is something that you might want to look into. If you have a back door in the garage, getting a deadbolt is something that is strongly recommended. Everyone will know about this man cave as soon as you open that garage door, and everything that's in it, so protecting those valuables is just a simple thing that could save you a lot of money.
Furniture
When you think of a man cave, you think of things that a man wants. What is the one thing that every man wants in his home? A recliner! So, of course, his man cave needs to have the best seat in the house, and that seat needs to be a recliner. You know that he will want the guys over, so extra seating and bar-stools are a must. Just for some fun, other than watching the big game on the TV, you could add a poker table and even a dart board. Next comes the entertainment…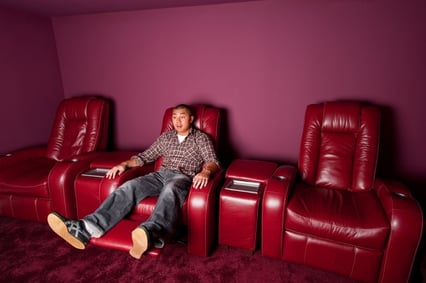 Bar and Fridge Area
Let's say you're watching the game and your team is in the red zone about to score a touchdown, but your drink runs out. WHAT DO YOU DO? Wouldn't it be nice to be able to just walk up to the bar or fridge and still keep your eye on that game? Well, you are not alone my friend! Placing a bar area and a fridge in the man cave will be one of the best choices you have ever made, plus your guests will be happy about it! No one wants to keep walking in and out to go grab a drink in the fridge that's inside. Don't be that guy.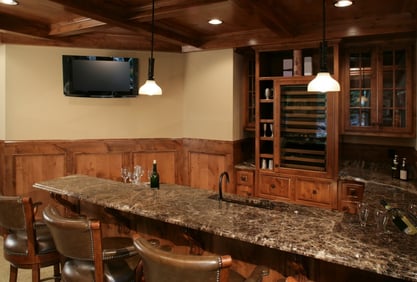 You have spent months, maybe even years, thinking about your dream man cave. You have all the information you need to start, so don't wait another minute! Don't forget to send that invitation to that awesome party when you get it done!